RK3399Pro and RK3399 passed the PSA certification of Arm platform security architecture
2021/11/12 21:42:33 view:804
Rockchips RK3399pro and RK3399 chips have officially passed the PSA Level 1 certification of the Arm platform security architecture. They support the efficient deployment of IoT and edge computing solutions based on the PSA framework, and help terminal partners improve the data security and reliability of their devices.
The PSA certification is the launch of the "Platform Security Architecture (PSA)" and related certifications for IoT security in conjunction with a number of independent security testing laboratories and consulting agencies by Arm to ensure the security of IoT products from design to practical application.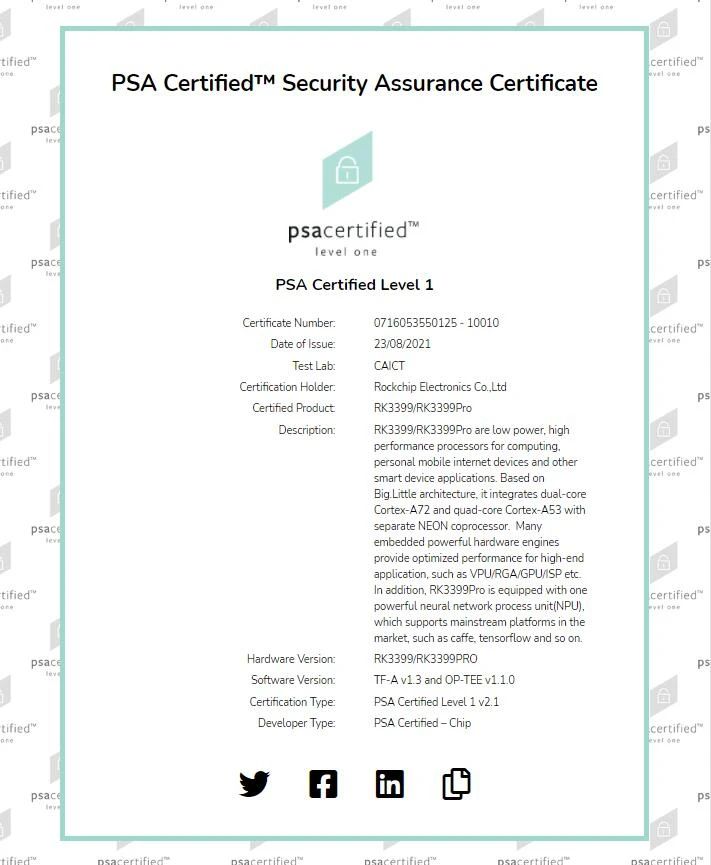 RK3399Pro and RK3399 are high-performance flagship chips of Rockchip, which are used in the Internet of Things, edge computing devices, high-end consumer electronics, machine vision, industry applications and other fields; both use dual-core Cortex-A72 + quad-core Cortex-A53 large and small core CPUs Architecture, integrated quad-core Mali-T860 GPU. Among them, RK3399Pro adopts a proprietary AI hardware design, built-in 3.0Tops NPU, and has outstanding performance and power consumption indicators.
Based on Arm TrustZone technology, RK3399Pro and RK3399 can achieve hardware isolation between secure and non-secure worlds, and support DRAM/SRAM/Peripherals secure isolation and configuration. Built-in hardware crypto engine, supports encryption and decryption algorithms such as AES/SHA256 and 256bits TRNG. Its application scheme can support secure boot (Secure Boot), firmware anti-rollback (Anti-rollback), secure application development (Trusted Application) and other functions.